Can you believe we are entering the cooler months already? While a summer spent lazily in the pool or at the beach would be ideal, this Covid reality we live in kept me a lot closer to home, so I welcome a change in the weather. If I'm not in beachy conditions I have no love for the heat and humidity of summer. Spring is nice but the bugs usually chase me back inside after a couple hours. I live for the cool and crisp mornings of Autumn. #HoodieWeather #ApplePiesCoolingOnTheWindowSill There's just something so chillaxing about being comfy while sipping hot coffee as a cool breeze blows and the sun rises in the early morning hours.
On to my winter plans, this year I have decided to stop scrolling mindlessly through Ravelry adding patterns to my library and just pick a couple of items I want to actually complete this winter season. Since I am not a super knitter, I try to plan for the season ahead of time. During the Autumn months, I'll be working on Winter items during Winter I like to get my warm items queued up. Do you have a plan of attack, or do you just scroll, pick, print and start as the inspo strikes?
Here are my Winter Project goals in no particular order.
Goal 1:
Cuddle Weather Cardigan 2.0
This is paid for pattern that I would label suitable for the Adventurous Beginner. I think it is a great option for those of us who experience personal summers and need a quick escape from the traditional winter sweater. Click here for purchasing information. You will need an Aran weight yarn or she suggests a DK weight if you want a light and airy cardi. This uses size US 10.5 and US 11 knitting needles. I have decided that I definitely need 2 of these, one for a friend and one for myself (best friends gotta match right) which gives me the perfect reason for yarn shopping!
Goal 2:
Gravel
Here is a free option that perfectly pictures winter. A hat and fingerless mitt set that I'm sure you will wear with pride or gift with pleasure. I wanted a simple hat and gloves set that I could hopefully get off the needles quickly and this pattern seems to fit that description, despite the small needle size. Find the download information here. This will use a sport weight yarn (Category 3) with size US 2 and US 4 knitting needles.
Goal 3:
November Evening Throw
Blankets are just a good staple and as much as I don't like knitting them, this one is an easy free pattern with mindless capabilities. Find the download information here. You will need an Aran weight yarn with size US 9 circular knitting needles. The circular needles are needed just for the weight and width of the blanket, it is worked back and forth in rows.
Goal 4:
Baby Socks – Worsted/DK version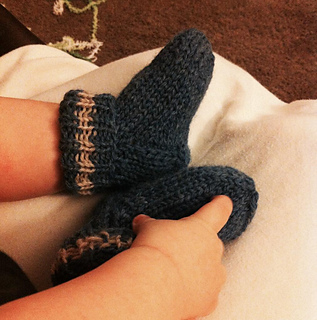 We have a couple of babies being born early next year and while I don't normally make baby items I do feel I need to branch out of my comfort zone and try my hand at these teeny tiny garments. I found these worsted weight baby socks which is perfect for all of the worsted Premier balls of yarn I snagged at my local Dollar Tree (more on that in another post). Find the free pattern here.
Goal 5:
Little Girl Pink Baby Blanket
How can you not think of a baby blanket when you talk about babies being born? I did lol, very easily. I've mentioned before that I really don't knit blankets because they just take a lot longer than crocheting, just my opinion here; however, in keeping with the "get out of your comfort zone" mantra I'll aim to do two of the things I desperately try to avoid baby items AND cables (who am I now?) The Ravelry page says it was published via Yarnspirations so click here to get that free pattern. Don't let the title hinder you, if you want to try this for a little boy or girl any and all colors would work great. Just a tip from people I've been getting, ask the parents what colors they would like so as not to offend anyone's personal ideas and opinions.
So there you have it fam. My goals have been entered into the universe so let's see what kind of work I can get accomplished in the next four to five months. What are your thoughts on winter weather? Are you a cuddle up in fleece pajamas type or go out enjoying winter sports type? What would tickle your fancy for a winter knitting project, short and quick project or longer lazy days type of item? Leave your thoughts below.